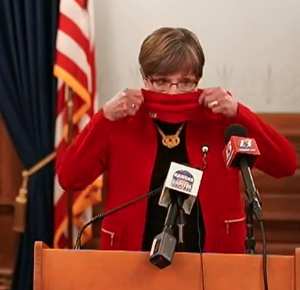 TOPEKA, Kan. (AP) — Gov. Laura Kelly is preparing to announce new measures designed to control the spread of the coronavirus in Kansas as the state experiences its biggest surge in new cases of the pandemic. Kelly scheduled a news conference for Wednesday afternoon to announce her new actions.
Click here to watch the press conference at 4p.m. CST
The event comes as public health officials warn that the state's residents need to be more vigilant about wearing masks, social distancing and avoiding gatherings. The Democratic governor has promised publicly that she won't shut down businesses statewide again, as she did for five weeks in the spring. The Republican-controlled Legislature also forced her in June to accept local control over pandemic restrictions.
The number of confirmed coronavirus cases in Kansas increased by 5,853 to a total of 128,594 the state health department reported Wednesday afternoon.
Coronavirus deaths were reported at 1,326, an increase of 60
Click here for additional numbers from the KDHE.